T H E S O U N D S O F H O R R O R –
The History of Horror Sounds & Techniques in Film.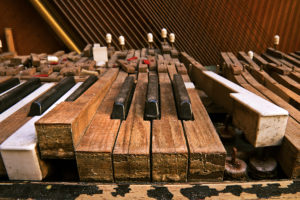 Whether it be creaking floor boards in a dark deserted hallway, the ominous sounds of unsettling whispers, or the aggressive revving of an old rusty chainsaw; some sounds are synonymous with horror. It is this genre that utilizes sound design the most, and relies so heavily on what the audience hears – or in some circumstances, doesn't hear. Understanding what types of sounds and in what combination can most effectively unsettle and sink deep into your audience's psyche will help any creator develop a more memorable horror film, television show, or web series.
'THE LEWTON BUS'
In fact, the notable horror cliche of the "quiet… quiet… BANG!" method is derived from the technique known as the 'Lewton Bus.' Producer Val Lewton famously developed the technique back in 1942's Cat People, of lulling the audience into a false sense of security as the scared protagonist proceeds in silence for a moment of time only to be jolted by the sounds of something rather innocent.
Even though aspects of this technique have evolved with time, you can see the 'Lewton Bus' method now used in nearly every horror film to date and is a valuable tool for any creator to utilize in their own horror masterpieces.
THE WATERPHONE
Also known as the 'ocean harp," is an odd looking percussive instrument that creates all those eerie and ethereal sounds used in countless horror films including Poltergeist, Aliens, Let the Right One In, and even non horror films alike. The sounds itself is tough to describe so give it a listen and you will instantly recognize it's spine tingling qualities.
THE CHAINSAW
Unless you're a lumberjack, for most of us the guttural revving of a chainsaw invokes thoughts of dread and dismemberment. This in part started back in 1974 with the Texas Chainsaw massacre and has been since remade, mimicked, and turned into several homages. The chainsaw sound is just so loud and violent that it cannot help but invoke a sense of chaos and confusion as the deafening sound itself grabs the viewers complete attention, puts them on edge, and does not let go.
METAL SCRAPING
Whether it be Freddy Krueger's claws opening, Jason's machete scraping against the wall as he meanders towards his victim, or Sweeney Todd sharpening his straight razors before he begins a shave to close for comfort. The sound of metal scraping inherently flags as a warning sign to the audience. You may not even see the object itself but hearing the sound tells you something bad is going to happen. We commonly identify metal scraping as a knife, blade, or weapon of some sort and hearing the sound triggers something basic in us screaming DANGER!
A SCORE THAT WILL DRIVE YOU MAD
All work and no play makes Jack a dull boy! Jack's slow descent into madness throughout 1980s The Shining has a intensely unsettling musical score to match. Letting the music indicate the tone and mood of your piece is paramount and is just as an important character as even your protagonist that needs to have its own arch and development. Using The Shining as our example Jack at the start of the film is an aspiring writer who took an off season caretaker job with his family; The music meanders along at a lulling pace. By the end of the film he's chasing his own kid through a hedge maze with an axe and the music is just pure chaos!
What do you think?
We've only begun to scratch the surface on all the horror sounds that make your skin crawl. Let us know your favorite and most iconic horror sounds in the comments below! And if you are looking to spice up your horror piece with some memorable sounds – whether it be eerie atmospheres, screams, shocks, creaking, cracking, breaking, or just good old fashioned gore – then be sure to check out AudioMicro.com for all your horror sound needs!
We're always here to support you in your creative endeavors!