Y O U T U B E S O U N D B R A N D S – A N D W H Y Y O U N E E D O N E !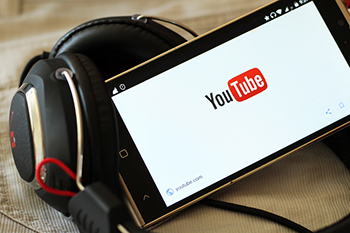 The Top 3 Greatest Sound Brands on YouTube
And Tips to Create Your Own Notable YouTube Video Style
There is one thing that all famous YouTubers have in common whether it be vlogging, tech reviewing, sketch comedy, cooking or just about any other genre or sub genre on YouTube that has found mass audience appeal – a sound brand. In this entry, let's take a closer look at the Top 3 YouTubers whose sound branding absolutely is on point.
But first, what is a sound brand? Well take a moment and think of your all time favorite YouTuber and ask yourself "Do they have an intro and outro with a notable music loops or sound effects?" "Do they have background music or regular sound effects that you have come to recognize to be synonymous with the show?" Those are all prime examples of a sound brand. Sounds, effects, and music loops all easily obtained from websites such as AudioMicro.com but utilized and regularly fed back to the audience in a way that the sound or loop itself becomes iconically entwined with the show. The overall ability that even if you just heard the music and sounds commonly used in your favorite YouTube series without seeing any visuals that you would immediately be able to identify the show is evidence of successful sound branding and what helps make the biggest youtube channels.
#3 Casey Neistat – 10 million subscribers
The man who invented the vlog – Casey Neistat. Easily one of the most popular youtubers on the platform these days. He understood early on the importance of creating a prominent sound brand within his vlogs and he quickly incorporated his skateboard grunge esthetic into everything he possibly could; especially so in regards to sound. Each vlog will kick off with his intro and original track followed by a series of background grunge loops and tracks he's curated and compiled over the years and will use when he needs to subtley convey different emotions he is trying to evoke in sections of his vlog. The background music content he uses has become so popular as his sound brand that you can even search on YouTube playlist mixes of Casey's Neistat that they too has millions of listens. Without his sound branding Casey Neistat's vlogs would lack the emotional punch and drive they so inherently carry. Check out some of his vlogs and see how skillfully sound branding can enhance your project.
#2 Game Theory – 11 million subscribers
Video games are always – ALWAYS – all the rage, and YouTube is no exception. Close on the heels of live Twitch streams comes a dedicated bunch of gamers on the YouTube platform with incredibly sizable fan bases. One particular YouTube gamer, Mat Pat at Game Theory, has found a niche of researching a games lore and developing new and sometimes unexpected theories about the games we all hold near and dear. From his branded musical intro followed by him toting off his notable slogan "Hey Guys! Welcome to Game Theory" altogether creates an incredibly recognizable and powerful sound brand. It's this one-two punch of branding that I find so effective that I've even caught myself humming along to the intro and matching Mat's slogan as a new episode comes on.
#1 Good Mythical Morning – 14 million subscribers
The singing and variety series comedic duo, Rhett and Link, who host Good Mythical Morning have been mainstream YouTubers since the very beginning of the platform. Early on in their career they realized the importance of creating a premium sound brand. Nowadays their primary show is a daily variety comedy series called Good Mythical Morning. Each episode may cover a new subject and content but in each episode their is a clear and recognizable opening and closing bumper along with notable transition sounds and background music. They recently just started their 15th season (Wow!) and following their trend the only thing that changes between seasons is their intro and outro sound branding which I find to be a refreshing way to audibly cue the listeners into feeling the show has a new layer of renewed energy even after so many seasons.
There you have it! You know realize the best YouTubers are in part the ones who know how to create a memorable and lasting sound brands for their fan base. Now you know it's not just what you show the audience, but it's also how you sound to the audience that can a leave a lasting impression that goes far beyond after the video is over. If you're in the market to develop your very own sound brand and don't quite know where to start may I humbly suggest checking out AudioMicro.com for all your sounds, effects, and music loops needs to get up and running quickly and sounding amazing!
What do you think? Are these the freshest sound brands on Youtube at the moment? Do you know someone with a better sound brand or think we missed one? We're always down to check out new and amazing talent on YouTube. Let us know in the comments below!