As editors, one of the many things we enjoy having in our arsenal are filters and transitions that can add creative flare taking our projects from ordinary to extraordinary. Sometimes, they lie in third party plug-ins from numerous developers or creations in After Effects. Premiere comes with some decent native transitions but what if you knew how to create a unique transition without using After Effects or spending a cent? Well, that's what I'm going to show you how to do today. The name of the transition we'll be creating is called Multi-Flip. What the transition does is flip the outgoing clip to incoming clip from the right, middle and left. Here's an example of what it will look like when it is done.
In this article, I will provide a written explanation on how to get it done and below I have provided a voiceless tutorial showing how to create it for more visual reference. Let's get to it.
Multi Flip Step by Step
For this example, I'm using a sequence that is set to 1280 x 720 and the frame rate is 23.976. Values will differ if you are using a sequence that is 1080p, SD or a different frame rate. I have two clips in my timeline and I want the transition to last 1 second. To do that, I will take 12 frames from the end of my first clip and from the beginning of my second clip. I'll select both clips and nest them.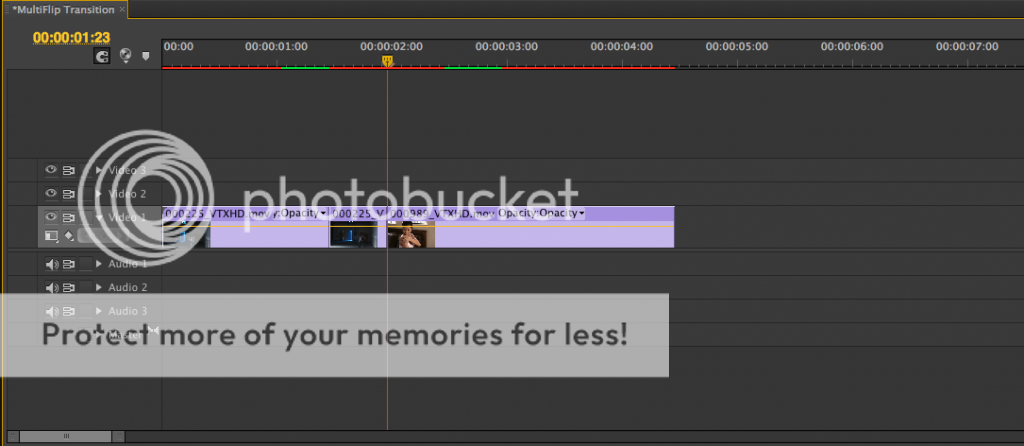 Inside the nested sequence, I will add a horizontal flip filter to my second clip and change the rotation to 180 degrees so that when it flips it won't be facing the wrong way.
Let's go back to the main sequence. Next, I'll add the Basic 3D and Crop filter to the nested sequence on Track 1.
On the nested sequence, I'll crop from the left about 67%. Add a keyframe for tilt and distance to image at the beginning of the nested sequence with values of 0. Let's move about 5 frames forward and change distance to image to 22. Move to the end of the nested sequence and change the tilt to 180 and distance to image to 0. That takes care of the left side. Let's take care of the remaining sides.
I will option drag my nested sequence twice to duplicate it. Highlight the second nested sequence. Change the Left and Right Crop to 32%. Change the last tilt keyframe to -180.
Highlight the third nested sequence. On the third sequence, change the Left Crop to 0% and Right Crop to 67%. Leave the other keyframes alone.
All that's left to do now is render and review. If you followed all the steps, you should get the result I got above. As I said before, values will differ in a SD or 1080p sequence as well as a sequence with different frame rates. If you want the transition to be longer or shorter, vary the position of the keyframes accordingly. Here is the video version of the quicktip if you need to see it in real time.
This transition was inspired by an FCP X transition from plug-in developer, CGM. You can try out some excellent Premiere Pro 3rd party transitions as well as a Feathered Crop filter from Bart Walczak by checking out the links below. I'm the NLE Ninja with AudioMicro asking you to stay creative.